Upcoming
Parley Playwrights presents: When a Tree Falls, a staged of a new play by ... ME!!
Directed by Rebecca Tourino-Collinsworth
Tuesday, February 13, 2018, 7 p.m., 18th Avenue & Union: an Arts Space. Tickets, $10.

This play has been a labor of love for me for many years, and it is finally having its world premiere. Check out the story line:
Rocky Styles has a lot to carry on her 17-year-old shoulders. Already she has dropped out of high school to take care of her ailing mother. Now she is selling off the furniture to stave off their imminent eviction. But when a stranger appears, it just may change Rocky's family forever.
Starring Imani Woodley, Rachel Glass, Anjelica McMillan, Zoe Wolf, Alice Bridgforth and Terry Boyd!
Drawing by Kimisha Turner
***

63 Trillion at West of Lenin


OMG! I had a blast in the role of Nancy in this hilarious and scathing black comedy, 63 Trillion. Reviewer Nancy Worssam called it: " ... a witty, wonderful, wildly funny play ... a marvelous cast ... brilliantly funny dialogue."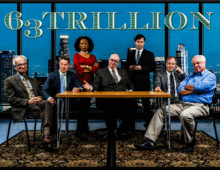 ***

Reading of Don't Call it a Riot! a Rousing Success!
Hundreds showed up for the reading of Don't Call it a Riot! at the Neptune Theatre on August 10th. Many, many thanks to those who came out to support the work, and to the wonderful cast, and director, Quiqui Martinez. Thanks to all the wonderful people at STG. Stay tuned for more info on the full production in May 2018!

Fundraiser: Don't Call it a Riot!

Help fund the full production! All donations received will go towards covering the costs of staging the play in May, 2018 at the 18th Avenue and Union Theatre. Stay tuned for further details!
News
DON'T CALL IT A RIOT! A FINALIST IN BAY AREA PLAYWRIGHTS' FESTIVAL
I am thrilled to announce that my play, Don't Call it a Riot! was a finalist in the 2017 Bay Area Playwrights' Festival! Here is the announcement and full list of winning plays and playwrights!