Upcoming
63 Trillion opens at West of Lenin Theatre in Fremont


I am presently in the hilarious play, 63 Trillion, playing at the West of Lenin Theatre until November 19th. Please check out this scathing dark comedy about the money management business. Reviewer Nancy Worssam says: " ... a witty, wonderful, wildly funny play ... a marvelous cast ... brilliantly funny dialogue." Buy tickets and read the entire review below: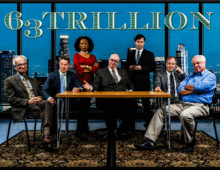 ***

Reading of Don't Call it a Riot! a Rousing Success!
Hundreds showed up for the reading of Don't Call it a Riot! at the Neptune Theatre on August 10th. Many, many thanks to those who came out to support the work, and to the wonderful cast, and director, Quiqui Martinez. Thanks to all the wonderful people at STG. Stay tuned for more info on the full production in May 2018!

Fundraiser: Don't Call it a Riot!

Help fund the full production! All donations received will go towards covering the costs of staging the play in May, 2018 at the 18th Avenue and Union Theatre. Stay tuned for further details!
News
DON'T CALL IT A RIOT! A FINALIST IN BAY AREA PLAYWRIGHTS' FESTIVAL
I am thrilled to announce that my play, Don't Call it a Riot! was a finalist in the 2017 Bay Area Playwrights' Festival! Here is the announcement and full list of winning plays and playwrights!